French manicures have become a timeless favourite, exuding elegance and sophistication with their chic French charm.
Whether you prefer square, ballerina, or almond-shaped nails, the French manicure can work for any nail shape you prefer. It's one of the most versatile manicure styles.
Not only are they versatile, but they're also a universally loved nail art trend. Recognised anywhere in the world as a cool and chic design, you can do no wrong with this look.
French manicures always make a stylish statement, however you choose to do style them. Ooh la la!
What is the trend in French manicures in 2023?
The beauty of French manicures lies in their versatility. Right now, the trend for everything seems to split into two opposite aesthetics – maximalism (especially for the millennials) and "enhanced natural" at the other end of the spectrum.
Maximalists go all out with their manicure, adding colours and jewels. The enhanced natural lovers tend to lean more towards a traditional French manicure, with a few small design extras.
Looking for a trendy twist? Explore variations like reverse French, French ombre, or colourful tips for a playful touch.
What colour should I use for French manicure?
Options are endless when it comes to French manicure colours and styles - from metallics to neons and everything in between. You can add glitter accents, diamantes, and patterns. Absolutely nothing is out of the question when it comes to French tips.
Try the Cally Gel French Manicure Kit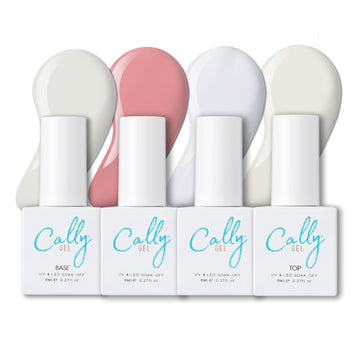 What type of nail is best for French manicure?
Nail shapes preferences vary wildly from person to person. Sure, some shapes will be more popular at certain times, but most manicure shapes are unlikely to go out of style. 
Having said that, the French manicure style as a whole needs a little length at the tip. Traditionally this nail design covers the natural white tip of your nail. It can cover the nail a little lower down too, but very short nails don't lend themselves well to many design choices for a French tip.
Some of the nail shaped more suited to a French tip include oval, stiletto, almond, square, squoval, ballerina, or squared off stiletto.
What color goes on first for a French manicure?
When painting a French manicure onto your nails, the base colour goes on first. This is the colour that covers the largest part of your nail plate, then the tip should be painted on next.
In a traditional French manicure, the pink toned colour closest to your natural nail colour goes on first, followed by a white tip. In the more adventurous French manicures, its whatever colour you're choosing for the main part of the nail plate.
Read more on how to paint your nail
15 French Manicure Trends
Whether you're looking for a cool twist on a traditional French tip or fancy a whole new way of styling them, these ideas will have you begging for a nail appointment ASAP.
Below are this season's coolest French manicure trends.
Leopard Print French Tips
Feeling fierce? Then why not let it show on your fingertips? Leopard print nail tips are an exciting way to show off your wild side. They're not too bold as the pattern doesn't cover the whole nail, but the design shows to you like to mix things up a little.
Geometric French Tips
French manicures don't need to be unform white on pink, natural looking nails. You can play with every aspect of the design, even the shape of the tip you paint. Go geometric or think outside the box. We love these pink angular tips that give this style of French manicure a flash of bright colour.
Coloured French Tips
Instead of having a traditional white tip, consider using any other colour. If you keep the base colour a natural shade, a coloured tip with add an element of surprise.
Glitter French Tips
Swap out plain white tips for a little bit of added sparkle. Use glittery nail polish on the tips instead of your usual white to really make those nails pop! The beauty of French manicure gel nails is that you can get a vivid shiny finish, whatever style you choose!
Zebra Print French Tips
Animal print nails are a fun trend, but most people look towards the big cats for inspiration. Instead, think outside the box and lean into zebra print. The traditional white tip with black zebra stripes is a striking alternative to a traditional French manicure.
Rainbow French Tips
When you want colourful French tips but can't make up your mind which colour to go for, then rainbow tips are for you! Have every colour on every tip, or work through the rainbow across your whole hand.
French Tips & Mandala Design
If you simply love a white on pink French tip and hate the thought of adding colour or embellishments, then try a French manicure with a mandala. A mandala manicure like the one in the picture is a subtle way to elevate this traditional design.
Pastel French Tips
Pastel French tips are as simple as they sound. Use a neutral base colour that matches your natural nail and add a pastel-coloured tip. Pastel blue is a popular shade for this season.
Pastel Base French Tips
Instead of going for pink hues on the main part of your nail plate, look into other pastel shades. Baby blue or mint green are both great alternative colours to have in your French manicure.
Ombre French Manicure
 Ombre is still a strong look in the nail world. Stepping away from the harsh line of a French manicure and instead going to a gradual ombre makes the look bang on trend.
Diamante French Tips
Either create a French tip entirely out of diamantes or add the odd diamante to a French manicure. Whichever way you choose to incorporate diamantes, it'll add glitz and glamour to your finished look.
Opposite Colours French Tips
This one is a bit of a wild card, but for a seriously snazzy French manicure like no other, utilise opposites. This means and colour you use as the base colour, paint a contrasting colour as the tip. For example, you could have a black base with a white tip, or a yellow base with a purple tip. You could always look up a colour wheel on Pinterest for inspiration.
Colour Tip & Matching Accent Nail
Inject some extra colour into your manicure by adding an accent nail. It doesn't need to be a bold or intricate design – a block colour will work perfectly, especially if it the same colour as your French tips.
French Tip with Nail Art
 If you're totally enamoured with your French manicure but want to give nail art a try, then why not let the two worlds collide? We love this picture of a blue French tip with lilac nail art swirls going up and down the length of the nail.
Other nail art designs that work with a French tip includes flowers, stars, sunshine, and anything else that's dainty. Keeping the designs small won't make the nail look crowded when keeping the French tip as well.
Two-Tone French Tips
Why have one colour French tip when you can have two? There are so many ways you can work two colours onto your nail tip. Try half and half with a middle split where the colours go. Or perhaps you prefer a layered-on look with a vivid colour on the very tip and a paler shade directly underneath, tracing the first.